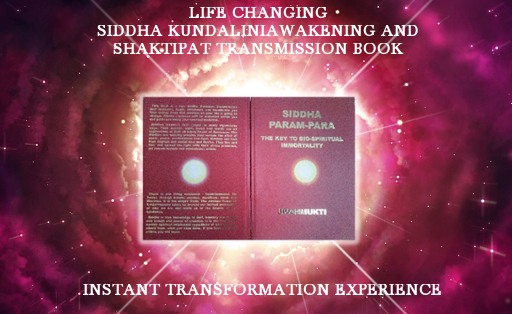 ABOUT THE BOOK:
EMANATES DIRECT EXPERIENCE AND SIDDHA PRESENCE, SIDDHA HEALING AND SIDDHA KNOWLEDGE;
EMANATES SIDDHA TRANSMISSION AND KUNDALINI AWAKENING EXPERIENCE;
BRINGS EQUANIMITY, JOY, ABSORPTION;
TRANSFORMS ON ALL LEVELS: PHYSICAL, EMOTIONAL, SPIRITUAL. HELPS TO EVOLVE AND FURTHER UNFOLD WITHIN;
IS MULTI-DIMENSIONAL;
IS CONTEMPLATIVE: NOT ENOUGH TO BE READ ONCE;
DEEP REVELATION ON HUMAN EVOLUTION, CONSCIOUSNESS AND EXISTENCE;
REVOLUTIONARY INSIGHT INTO YOGA, SPIRITUALITY AND HUMAN SPIRITUAL ANATOMY;
SPEAKS IN DEPTH ABOUT THE ESSENCE OF EXISTENCE, EMOTIONAL REALITY, HUMAN EXPERIENCE, EVOLUTIONARY CAPACITY OF THE BODY, AWAKENING OF CONSCIOUSNESS, KUNDALINI AWAKENING, KUNDALINI TRANSFORMATION AND HUMAN ALCHEMY, SIDDHIS, SPIRITUAL POWERS, BIO-SPIRITUAL IMMORTALITY;
UNFOLDS SECRETS OF SIDDHA WRITINGS AND YOGA SUTRAS, TANTRA, AND ALL BRANCHES OF YOGA: KRIYA YOGA, KUNDALINI YOGA, RAJA(RASA) YOGA, SIDDHA YOGA, AMANASKA YOGA, ETC. AND DEMONSTRATES THE TRUE EXPERIENTIAL MEANING OF YOGA AS AN EVOLUTIONARY PERSPECTIVE, BEYOND RELIGION, THE NEW AGE OR OTHER COMMON PERSPECTIVES AND DELUSIVE CONCEPTS. 
ENLIGHTENS SPIRITUALLY, INTELLECTUALLY AND BRINGS A NEW INSIGHT/ PERCEPTION ONTO THE WORLD WE LIVE IN THROUGH THE VERY BODY.
HEALS, REJUVENATES, EMPOWERS AND BRINGS BLISSFUL VIBRATIONS INTO THE BODY AND THE ENTIRE BEING. 
More Information about the book you can find here